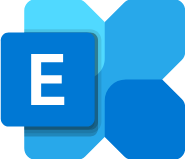 What is Exchange?
Exchange is a groupware product from Microsoft. It includes mail functionality, personal and shared calendars, address books, contacts and the possibility to define and use groups. Each Exchange user can control which of his resources (mails, calendars, contacts) are made accessible to other users in a very fine-grained way.
The Exchange service can be used from anywhere - i.e. not only from the Munich Scientific Network - using conventional PCs as well as mobile devices (smartphones, tablets, etc.).
Who can use the Exchange service?
The Exchange service is available free of charge to the statutory users of the LRZ:
Ludwig-Maximilians-Universität München,
Technische Universität München,
Bayerische Akademie der Wissenschaften.
(This includes mailboxes up to 3 GiB, storage space extensions are charged according to the service catalog).
For other institutions from the Munich university sector, use is also possible on request, but subject to a charge.
Currently using institutions are:
Hochschule München,
der Akademie der Bildenden Künste,
Hochschule Weihenstephan-Triesdorf
among others.
Where are the Exchange accounts administrated?
The administration ("account configuration", "setting or changing of mail addresses", "configuration of forwards", etc.) of most accounts is done directly in the identity management portals of the universities. The data is automatically forwarded from there to the LRZ's Exchange service.
In other cases, accounts are managed via the LRZ IDM portal.
Identity Management Portals
What is my username (account)?
In order to use the Exchange service, please enter your account as your user name and the corresponding password.
Hochschule Weihenstephan-Triesdorf:
Username of the university, which starts with "hswt".
All others:
LRZ account that also applies to the LRZ IDM portal.
Which clients are available for Exchange?
The full functionality of Exchange is only available with Microsoft Outlook, which is available for Windows and for Apple Macintosh. For Mac computers, however, the Apple Mail Client (from macOS 10.12 Sierra) is also good to use.
The Exchange service can also be used with POP/IMAP clients such as Thunderbird. There is practically no difference to conventional mail servers on the mail side. However, the groupware functionalities (calendar, contacts, etc.) are often not usable. With Thunderbird in new versions together with appropriate add-ons, limited access to the calendar is possible, though.
Exchange can also be accessed via the web interface "Outlook on the Web", which you can reach under https://xmail.mwn.de. You can log in there with your account and the corresponding password. All common browsers (Internet Explorer, Firefox, Safari) offer the same functionality there.
The clients must support at least TLS-1.2 for connection security.
Therefore, at least Windows 10 or MacOS 10.12.6 is required. For Linux clients, at least openssl-1.0.1 is required.
Outlook (Client for Windows and Macintosh)
Outlook is the standard client for Exchange. To access your Exchange mailbox at LRZ, you can use one of the following Outlook versions:
Outlook from 2016
Outlook for Mac (from version 2019)
Older Outlook clients (Outlook 2003/2007/2010/2013) are no longer supported.
Clients for Macintosh
For Macintosh, on the one hand, the Microsoft product Outlook for Mac (from version 2019) can be used. Please note that to use it with Exchange, all updates for Outlook must be installed (Help → Check for Updates).
However, the Apple mail client is also an alternative to using Exchange and supports most of the functions that are possible with Exchange (as of macOS 10.12 Sierra). Nevertheless, it may happen that the range of functions with Apple Mail is somewhat limited (this applies to access to shared mailboxes, among other things).
Clients for Unix/Linux
For Unix or Linux there is the client Evolution, which supports almost the complete range of functions. Another possibility is to use Thunderbird with add-ons for calendar usage. Then Thunderbird can be used as IMAP client and the Exchange calendar can be connected. While this does not provide 100% groupware functionality, it is a significant improvement over using a "simple" IMAP mail client.
Further usage options are:
Outlook on the Web
Windows Terminal Server